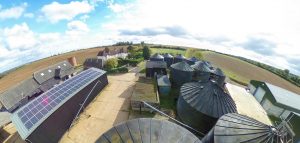 Swangleys Farm Business is a small family-owned arable farming and land enterprise operating on the urban fringes of Knebworth and Woolmer Green in Hertfordshire, with its farm yard situated on the eastern edge of Knebworth.
The farm produces predominantly wheat, barley, oil seed, oats and beans from arable land located at Knebworth and Woolmer Green and also hay from permanent pasture located elsewhere.  Contract services are pooled with other family farms to create greater operational efficiency and the business is a member of North Herts Farmers.
In addition to the farming enterprise, other business activities have been developed which include infrastructure and commercial lettings, residential lettings and commercial solar microgeneration facilities.