Swangleys Farm Business is a small family-owned arable farming and land enterprise operating on the urban fringes of Knebworth and Woolmer Green in Hertfordshire, with its farm yard situated on the eastern edge of Knebworth.

History
The farm's existence to the east of Knebworth was first recorded in 1278  – over 600 years prior to the building boom of the 1880's that created the village itself.  Prior to the 1880's, and the arrival of the train line, Knebworth consisted of only a handful of separate isolated homesteads. Over the following 130 years, waves of building booms and continual further organic development have seen both Knebworth and Woolmer Green ultimately wrap around the currently farmed land from the west, with the farm yard now being only just outside of the modern village boundary in Knebworth.  In Woolmer Green, the farm's land similarly now abuts immediately against modern housing and an industrial estate alongside the B197.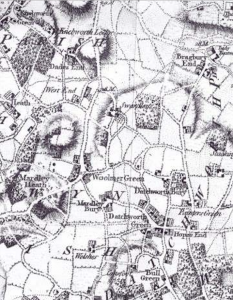 Modern Times
The current family owners – with the fifth generation now actively involved in the business –  have operated the farm since the late 1880's.
Despite ad hoc repairs and rebuilding in the farmyard after a major fire in the 1970's, farming practises have since changed substantially, making much of the current yard unsuitable for the larger equipment and efficiency needs of modern agriculture.
To help restore the viability of the farm, the current owners have invested heavily in two large new barns to the west of the yard, built to modern specifications. They have also created commercial-scale rooftop solar power generation within the farm yard and invested in shared offsite equipment including modern grain drying facilities, amongst other improvements.
Aside from modernising the farm's built infrastructure, the current owners have put very substantial amounts of their personal time and labour over the last decade into a series of ecology-based initiatives including re-establishing long-lost hedgerows, new plantings of standalone trees, work on the establishment of a wildflower hay meadow and various Countryside Stewardship measures.
The Future
It is well documented that smaller scale arable-only growers will increasingly struggle to survive in a grain market dominated by the largest UK farms and mega-scale low cost overseas enterprises.  With this future trend ahead and the next generation of the family now involved in the Swangleys business, the top priority is therefore to rise to the challenge set by Defra for Swangleys and other similar family farms  – to respond to a changing agricultural , commercial and regulatory environment through diversification of the farm's business, land use and incomes.  The farm business is run for the long term and initiatives to further diversify will necessarily be features of that future.
If you would like to get in touch, you can reach Swangleys on our contact page.