A few people have recently said they've noticed some strange lines of gaps in our crops in the current Google Maps satellite view of Woolmer Green.  They look like "cut here" signs on packaging but enormously scaled up.  They all asked if there was a fault in our contractor's seed drilling.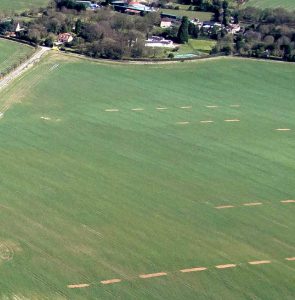 These gaps weren't mistakes, they were Skylark Plots that were in place at the time that Google's satellite photo was taken.
Skylark populations have been in decline nationally for many years.  The RSPB have highlighted that habitat scarcity is the main problem. They advise that Skylarks prefer to nest on the ground in open fields, away from field edges but in low vegetation – but only if that vegetation is between 20 and 50cm high.  That's a very choosy set of conditions and not easily found just anywhere…… so, as part of a national stewardship scheme, we created individual nesting areas scattered across fields.  We did this for a few years, changing the locations each year and it's an ecology initiative that we might return to again in the future.