UPDATE : Ringway have confirmed that they intend to repair this hole and will do so some time from mid August. No backstop date has been given.
ORIGINAL POST :
Several local people have been in touch to let us know that there is an exposed concrete pipe with a deep hole in it near the allotments at the edge of the field to the south of the Watton Lane pumping station. It's a potential hazard and we have heard from one local person who reports that they have already stumbled into it and been injured as a result.
The holed pipe is Herts County Council's soakaway that takes excess surface water from local roads. Herts County own and installed the pipe and their contractor Ringway is responsible to them for maintenance. We have today marked the hole to highlight the danger and had already contacted both Herts County and Ringway to alert them to their need to repair the pipe to avoid a potential risk. The Parish Council are also aware. Normally, Herts would put Ringway in charge of any repairs, but I imagine that this would take quite a while for Herts and Ringway to programme – potentially months based on previous experience. We will post on this website any further updates that we become aware of.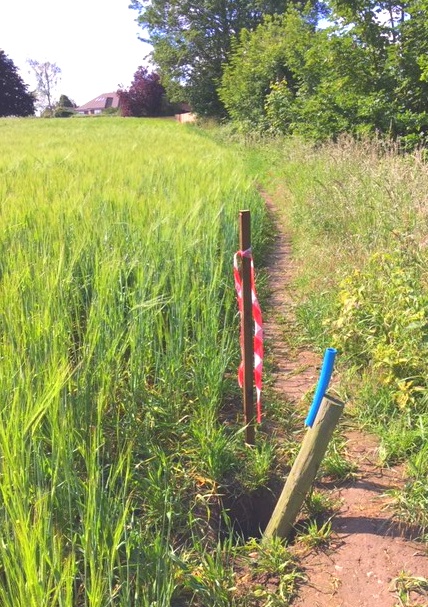 We always look to run a safe farm, but please recognise and respect that – although we see some people have started using this area as a shortcut – the location where the hole lies is part of our own arable field and is not a public right of way nor a permissive path, something that can be easily checked with Ordnance Survey maps.
We became aware of this hole through feedback from the local community – for which we are always grateful. Being a farm based on the edge of a built-up area, we have our fair share of vandalism, fly tipping, theft and other antisocial activities. We have always worked closely with neighbouring residents to help each other combat these problems. If you do ever see a hazard such as this hole or the results of some antisocial activity on the farmland that we should be aware of then always feel welcome to let us know using the Contact Form section of the website.