We recently spent a full weekend morning on a mission of picking litter from the council's verges along Swangleys Lane.
We constantly remove rubbish that we find on our own fields but, when we can find time, we sometimes also have a big session clearing the public verges. The rubbish-strewn country lanes on the fringes of Knebworth, Woolmer Green and Datchworth are a real blight for each of our communities and we try to help put this right when we can.
Most of what we took away that morning was a build-up of cans and bottles and other food wrappings thrown out of the windows of passing vehicles or dropped by walkers. In the stretch of Swangleys Lane from the farm up to the junction of Baines Lane in Datchworth, the general litter part of our haul filled 8 bin bags including over 80 cans and bottles alone, plus several larger dumped items not shown in the photo below.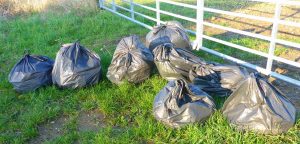 On our way, we discovered these two different hedges sprouting beercan fruit to their tops, a good 8ft above the road.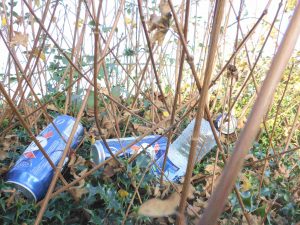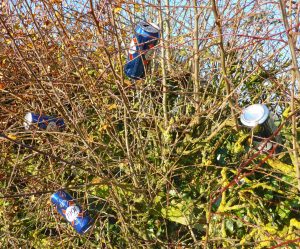 More disappointingly, in addition to the discarding of hundreds of small pieces of litter, were also a group of carefully flytipped carrier bags containing domestic rubbish from a single household that had been deliberately transported to just outside Knebworth for dumping. Those bags even included an unused Xmas Elf Hat and an Xmas card from the previous Christmas addressed to the householders by name. Poor bin collection in our area and closed or full council waste sites have been issues for many people locally, but it's sad to see the use of the countryside verges around the village as an alternative dumping ground. It's something we encounter – and deal with – both on our field boundaries and the council's verges many times a year.