We regularly put in intensive sessions clearing roadside rubbish from the Council's verges around the farm.  This month we cleared Watton Road.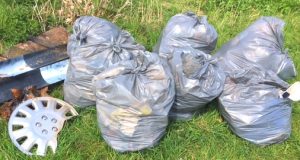 I know a lot of the local community had noticed that the entire length of Watton Rd west of the crematorium and up to the junction with Old Lane was in a shocking state.  The photo shows the rubbish we picked from just half of the road length that we cleared  – almost all of it was drinks and snack containers lobbed out of car windows on the move as they drove between Knebworth and Bragbury End.
We cleared the rubbish over three days and by the time we had finished at one end, more rubbish had arrived at the other.